Starting at the end of November, 2014, LinkedIn started reporting on the results of its "Add to Profile for Certifications" functionality, introduced earlier that same year. The results draw on the site's 320 million-plus members to shed some interesting light on the certifications that they hold. Not all of them are in IT, of course, but those that are shed some interesting light on the subject.

You can find a regularly updated collection of this data, which comes from LinkedIn members who elect to include certification data in their individual profiles, at the company's Top Certification Providers web page, which lists the top 100 entries ranked by their frequency of occurrence on the site. Here's a screen cap of the top 5 entries from that listing: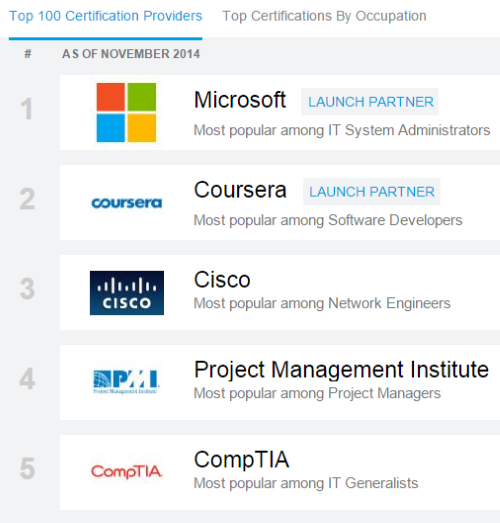 All three "800 lb gorillas" of certification make the top 5, but not the top 3!
Even this brief listing shows the value that the LinkedIn data can provide -- namely, the aggregation across all certification programs, irrespective of the agendas that drive individual certification sponsors or organizations. To me, it's fascinating that free college course provider -- namely Coursera -- can grab the number two spot, in the company of all of the big 3 cert providers (Microsoft, Cisco and CompTIA). And while it's no surprise that the Project Management Institute, whose Project Management Professional (PMP) is a touchstone for many aspiring and successful IT professionals would show up somewhere in these rankings, I was intrigued and irrationally pleased to see it pop up in the Top 5, ahead of CompTIA even.
Perusal of the remaining top 100 shows that just over half of them (54) were IT related in some form or fashion out of that total. Oracle (and the former Sun Micrososystems, now a part of that company) actually claims two spots (numbers 8 and 20 in the rankings) and IBM shows up as lucky number 13. This confirms to me that these huge programs (each of which encompasses hundreds of individual, mostly single-exam certs) actually DO register with the IT professional community at large, and do command a reasonably substantial following. Reading over this list actually does help to put IT certification programs into perspective, both in terms of real-world appeal and heft and in terms of their relationships respective to one another.
This same page also features a "Top Certifications by Occupation" tab, though it offers only the top 3 credentials for a range of job roles: administrative employee, business owner, consultant, customer service specialist, data analyst, financial consultant, medical coding specialist, network engineer, online marketing manager, product manager, project manager, and software developer. The mix of certs listed is intriguing, and I'd love to see the same depth as for the overall rankings.
This is an interesting and informative collection of data. It's worth getting to know, and keeping an eye on, if you follow the certification space like I do, or if you are an IT professional who's pondering the relative worth of various certification credentials for your own purposes. Be sure to check it out!