Now a Senior Cloud Infrastructure Evangelist for VMware, and formerly a professional instructor with 18 years of technology experience, Mike Laverick has been around the block and back.
Having helped found Irish and Scottish user groups, an avid site owner and blogger, and Johnny Cash enthusiast, this new VMware Press author is well rounded to say the least. Find out what makes him tick...read on.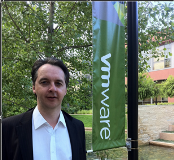 1. How did you get your start in the industry?
When I was 21 I became a teacher – just for a year. Teaching English in a UK school. I hated it. What's more, the kids hated me. So I quit, and went back to live with my parents, whilst I figured out what to do with my pathetic excuse for an existence. The week after I got home, the local University sent me a magazine for Graduates. I opened the first page – and there was an ad looking for Graduates to teach computers to newbies. It was the early 90's and folks were getting Windows 3.x and people were learning "What is a word processor?" and "What is a spreadsheet?" I'd done a little bit of computer stuff at home. My first computer was a Sinclair ZX Spectrum in the 80s. But I hadn't really kept with it. I sold the computer for record player and guitar – and had discovered alcohol and girls (in that order… for some reason I've always had a better relationship with drink than women. Go figure…). At University the most I'd done was typed up essays using Word for DOS. During teacher training I'd been lumbered with the "IT and English" part of the curriculum mainly I was the only member of staff without grey hair. So really what I knew about computers could have easily fitted on postage stamp. So I blagged my way through the interview and the train-the-trainer program. The rest, as they say is history.
I progressed from applications onto networks (Novell Knitware 3.11 and Microsoft Windose NT 4.) Bit later on I got into Citrix MetaFrame. By 2001 then I'd been made redundant and started my own training and consultancy company. By 2003 I was bored with Citrix whose star was already declining…. I was bored. For while I looked at learning Linux. But that seems more of the same stuff I'd been doing, just a different OS. This VMware thing caught my eye. I'd been using Workstation in my classes for a while, but hadn't considered it as enterprise product until I saw ESX 2.0 and VirtualCenter 1.0. VMotion blew my socks off and I spent most 2004 learning the product desperately trying to make it into the VMware Certified Instructor (VCI) program which at the time was only open to big education businesses (HP Ed, IBM Ed) or folks in the channel (Margius, DNS Arrow etc). In the end I got lucky when a student introduced me to the EMEA Manager of Education at VMware. They were desperate for freelancers like me – as the channel couldn't keep up with demand. So I eventually got myself into the program. By then I was very active on the community forums, and had been writing my own personal guides as memory aid. One day I decided to put them online for free, in the hope that other people would find them useful. By the end of the week my ISP had stopped my website because of excessive downloads. I should have really charged $10 a download.
2. What certifications do you have and are you pursing anything next?
I'm VCP2/3/4/5 – and I'm formerly a Microsoft and Citrix Instructor – and at one stage held all the certificate required to deliver their curriculums. Those melted away once I started to focus on VMware in 2003/4. I'm currently pursuing the new VCP-Cloud certification, and I'm working through the VMware Training, TrainSignal Training, and vCAT3 documents as part of the preparation for that. Like many in the community I grew up on the vSphere platform, and branched out into VMware View and VMware Site Recovery Manager. But it's now time to refocus on cloud as enabled by VMware's software-defined datacenter technologies. After all it's hard to be VMware's new Senior Cloud Infrastructure Evangelist without hands on experience.
3. What would your readers be surprised to know about you?
That despite being known as part-time Elvis impersonator, I'm actually a massive Johnny Cash fan.
4. What's your tech library look like?
Given my position I get sent more tech books for free than I could ever possibly read. So many of them wind-up being prizes at VMUGs! There are some books I haven't given away. These include the "Vmware vSphere: PowerCLI Referrence" book by Dickens, Renouf, Sizemore, van Lieshout and Medd. I've also got Duncan Epping and Steve Caplin's book on "Cloud Computing with VMware Cloud Director" - and for posterity I've kept the first ever book about VMware ESX – by Scott Herold and Ron Oglesby – two guys I late co-authored the VMware Virtual Infrastructure 3 book.
5. Any favorite blogs or sites that you can't miss?
There so many good bloggers out there with international reputations. But I actually like to follow the smaller blogs from people I know personally. There's new breed of bloggers coming up through the ranks of the London VMUG. People like Julian Wood's wooditwork.com -who's done an excellent series of posts of about using SSL certificates with vSphere.
6. What inspires you?
To write? Well generally a new version of a product helps get the creative juices following. What I enjoy is building a system up from the ground up, and showing how all the parts fit together. Generally the community inspires me – although I've given a lot to the community – I've received much more back from them than most individuals will ever appreciate. Put simply I wouldn't be in the position I enjoy today without the backing of the VMware Community.
7. Favorite author?
Difficult. As former student of English and American Literature in the 1990's my secret passion is the literature of the english-speaking peoples. For me F. Scott Fitzgerald is up there on my list. I know it's cliché but "The Great Gatsby" is one of my favorite books of all time. Being the obsessive I am I've read it some 30 times. At one stage I could almost recite it! I'm also a big fan of Kurt Vonnegut's work – mainly because seem to achieve an economy of prose that matched Hemingway, but seems to be able to add a elegiac humanity to his writing that expressed the quintessence of the human experience. See I told you I was an arty farty type.
8. Care to speculate on the next big thing?
If I knew that I would buy stocks in them. Seriously, though I got into VMware very early and that has learnt me the unwarranted tag of being "visionary". I'm not really. I'm always amazed and delight at what new geeky toys developers are able to conjure from code. I predict more of the same. If that last decade was about doing more with less. It won't be a surprise that the next decade will be about doing EVEN more with EVEN less. There's still a lot of efficiencies yet to be realized from Corporate IT infrastructures.
9. How has being an author changed you or has it?
I think for a long time – before even becoming a technical author I was a heart a bit of frustrated writer. The change came when blogging platforms such as Wordpress took off, and any Tom, Dick or Harriet could set themselves up. The barriers now to becoming a writer and distributing books is incredibly low. If you have the time, energy and commitment you could write a book and self-publish it. A word of warning. It's extremely hard work and the rewards are qualitative rather than quantitative. You write because you have passion and drive to share with what you know with us. That's the same spirit that drove me to being an instructor. So in my ways I see the writing as an extension of that initial drive. Being an instructor was all about quickly sharing hard won knowledge, the nice thing about writing is I got a larger canvas in which to share. It seems likely with my new roll that I will be taking a well earn sabbatical from the long-form format. I haven't stopped writing since 2003 and in that time authored about 8 books. I will keeping up with the blogging at mikelaverick.com – and hope to writing to active duty in years time or so.
10. Please give your readers 3 tips for success
• At the end of each day – ask yourself what did I learn today that I didn't know yesterday? If the answer is nothing or very little, you need to think about what you're getting out of your position.
• Remember what you share with others is more valuable to you, than keeping your knowledge behind a large wall. Sharing what you know with people will secure your future. Keeping it yourself will mark you down as someone who isn't really a very helpful person…
• My message would be keep open-minded. Follow your gut. Work your socks off. When all those ducks lined up in a row, tremendous things can happen that you would never have expected.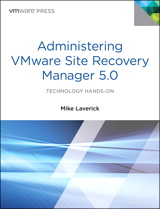 Learn more about Mike through his official bio or follow him on Twitter @Mike_Laverick. His new book Adminstering VMware Site Recovery Manager 5.0 can be purchased in print or electronic formats and is now available!