Today, July 29 2014, Cisco announced major revisions to the Cisco Certified Network Professional (CCNP®) Routing and Switching certification. All three courses: Implementing Cisco IP Routing (ROUTE), Implementing Cisco IP Switched Networks (SWITCH) and Troubleshooting and Maintaining Cisco IP Networks (TSHOOT) have been updated to v2.0.
The new version provides candidates with more current and forward looking educational topics, emphasizing IPv6, Cisco StackWise, Virtual Switching Services (VSS) and Dynamic Multipoint VPN (DMVPN).
New Official CCNP Routing and Switching Products - Read Early Chapters!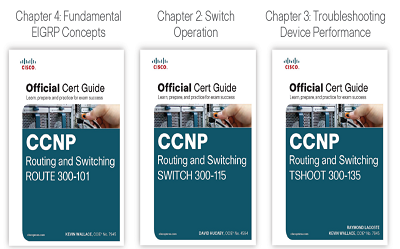 Cisco Press has a comprehensive suite of official 300 series products to enhance classroom study or self-study exam preparation for CCNP Routing & Switching beginning in September 2014.
· Foundation and Official Certification Guide books and eBooks
· Premium Edition eBooks & Practice Tests
· Video Tutorials
· Value priced complete Learning Libraries, Exam Practice Packs, Portable Command Guides and more
· The retired 642-series exams will be available through end of January 2015.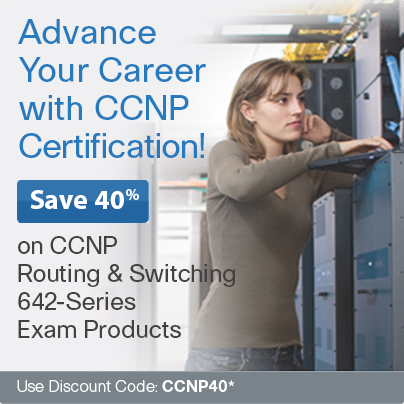 SPECIAL OFFER:
Certification candidates can save 40% off list price on retired 642-series products, learn about a special pre-order sale on the upcoming 300-series materials, as well as download exclusive early chapters from the new CCNP Certification Guides by visiting the Cisco Press CCNP information page at ciscopress.com/ccnp.
Cisco Press is the official publisher for Cisco certification and network technology self-study resources providing candidates with flexible learning options including books, eBooks, practice tests, video training, simulator software and value-priced libraries.
For the latest news, subscribe to our social channels:
Cisco Press: Facebook, Twitter, Google+, and YouTube or join us on our LinkedIn page and subscribe to our monthly e-mail newsletter.
Pearson IT Certification: Facebook, Twitter, Google+, YouTube, and our LinkedIn page or subscribe to our monthly e-mail newsletter.