One of the best ways to prepare for a certification exam is to gather with a group of like-minded IT professionals and work as a group to get ready for your upcoming slot at a testing center near you. To help facilitate such efforts, PearsonITCertification.com offers special support for user groups as part of its community outreach efforts.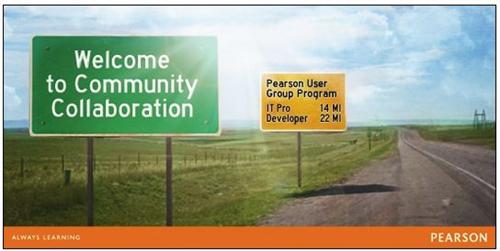 Sign your user groups up for valuable discounts and free study materials.
I've written repeatedly about the benefits of forming or joining a study group or user group as you prepare for almost any IT certification. You'll find coverage of this topic from yours truly in a recent story I wrote for Tom's IT Pro (October 2011) entitled "Certification Exam Prep" -- it even includes a section entitled "Seek Out IT Groups and Associations." I also dug into this topic in my 2003 book IT Certification Success Exam Cram 2 (a Pearson publication that is sadly no longer in print), where you can find some relevant information on pages 238 and 239 in this Google books excerpt.
But if you belong to a user group -- including a study group of your own devising -- it may qualify for access to special promotions and discounts on IT cert prep materials from Pearson Publishing. To qualify, such a group must meet these criteria:
Active membership of 10 or more individuals
Valid and active website for shared information
Regular online or face-to-face meetings of members
If you belong to (or join) such a group, you'll want to inform its leaders that if they contact Pearson they can request consideration to qualify for the Pearson Education User Group Program (details are available on the User Groups page at InformIT.com). Only leaders of such groups can and should apply, but if they do they can bring useful news, information, discounts, and free downloadable materials to their group members. Be sure to tell them to check it out!