Thanks to my buddies over at GoCertify.com, I recently learned about a new IDC study that is chock-full of interesting and useful information about where jobs are going to be most plentiful in the years ahead. Entitled "Skills Requirements for Tomorrow's Best Jobs, it does a great job of analyzing and dissecting current and future job markets, and of identifying skills and knowldge that current and upcoming graduates will need to excel at them.
Microsoft sponsored this study, in fact, because its findings include an observation that most of the top 10 job markets that lie ahead in the USA will include positions (sometimes, a substantial number of such positions) that can benefit from skills involving Microsoft Office, as well as other Microsoft products and platforms. According to the summary of that study compiled at GoCertify.com, in fact, "IT workers who holds MCSA and MOS certs can earn between $10,000 and $16,000 more per year than their non-certified peers." That's pretty interesting all by itself, but what I found most intruiguing about this study is what it says about where the jobs market is headed, nicely captured in this pie chart for 2020: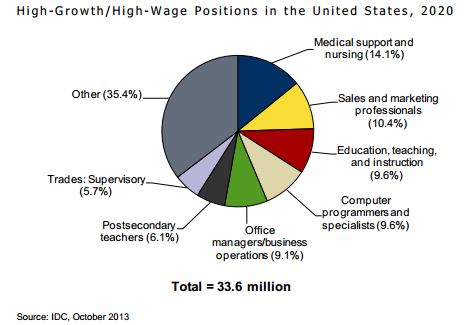 An interesting list of industry sectors to be sure! (Source: IDC)
The sectors that appear in this graph identify the sources for almost one-third (28%) of future job growth in the next six years in the USA:
1. Medical support and nursing (14.1%) 4. Computer prgming & specialists (9.6%)
2. Sales & mktg professionals (10.4%) 5. Office mgrs/business operators (9.1%)
3. Education, teaching, & ... ( 9.6%) 6. Postsecondary teachers (6.1%)
7. Supervisory trades (5.7%)
These are high-growth and high-wage part of the job market, and thus, it is undeniably worth steering future grads in such directions. Further details of the study show that such people are likely to earn salaries significantly higher than the median US salary across all occupations ($69,179 vs. 45,929, or about a $16K difference). IDCs study also shows discusses a set of core skills desirable in the labor force and describes them as "more important than any specific technology skills, deep science or math, or even great business skills" -- rather these are "common, core skills ... that are both important and widely required across positions." In fact, IDS describes them further as "...mostly 'soft' skills, ... [along with] ... some technologies or 'hard skills..." Here's the graph they put together to capture this information: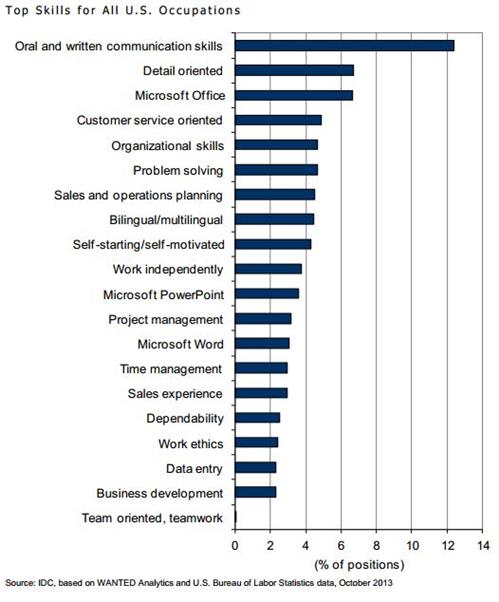 (Source: IDC)
What's interesting about this graph, aside from the nice collection of soft skills it assembles (and I'll probably blog about this again, this being a favorite axe of mine to grind) are the technical elements it also contains, specifically MS Office (#3), MS PowerPoint (#11), MS Word (#13), and data entry (#18). This does indeed suggest that not just basic computer literacy, but also some level of application proficiency, must be included in the coverage and curriculum at the high school level. I have no trouble understanding why MS funded widespread distribution of this report, and expect it will only put fuel on the fire to bring more MS Office training into high schools. To me, it's fascinating that a productivity suite can loom so large in the needs of so many businesses and organizations as to occupy a sizable chunk (15%) of this Top 20 list.
It also tells me that the MS IT Academy is spot-on to focus on MOS and MTA in high schools, with some MCP coverage in some places. And it does suggest that guiding kids into such coverage and courses is indeed a good idea, and likely to produce long-term positive outcomes.