Reading over a recent post from Microsoft Learning that includes the tag line "Everything Lync is becoming Skype for Business" provides an illustrated lesson in how IT cert programs change and evolve. Even more interesting: what happens to old exams with scheduled retirement dates, while waiting for new ones, and how they count toward partner qualification requirements.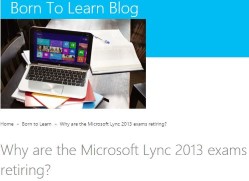 What's in a (product) name? The keys to linked cert credentials...
The blog post in question is, as the foregoing screen cap shows, entitled "Why are the Microsoft Lync 2013 exams retiring?" The short answer is "Because the platform name is changing to Skype for Business, and the exams (and everything else about it) are going through the gyrations necessary to put those changes into effect." The new Skype for Business exams will qualify IT professionals for the MCSE:Communication credential when they become available, just as the Lync 2013 exams qualify IT professionals for that credential now through July 15, 2015 at which point they might retire (if the new exams are available by that time). The blog post hedges its bets on delivery dates with this breezy admonition "But don't worry -- we won't pull the Lync exams out of market until the Skype for Business exams are available."
Uncertainties that vague deadlines can engender notwithstanding, the message boils down to "Communication stuff depends on Lync 2013 until Skype for Business exams are ready to be taken." In this new age, where the MCSE must be renewed every three years anyway, MS assumes that those who used to mess with Lync will change to messing with Skype for business and will eventually have to recertify anyway. But the next certification could be a do-over, because the blog post also informs readers that MS will be "providing more information about certification options for MCSE:Communication this summer." Sometimes, the company will offer a single recertification exam available only to those who hold the predecessor cert (as often with other MCSE and some MCSA credentials). Sometimes it won't. We'll find out in a few months, apparently.
Some who are affiliated with MS through their Partner Network are required to demonstrate specific competencies, as is the case with the current slate of MCSE:Communication exams and the Communications Competency. Turns out that when the exams change, partners will be able to keep current competencies -- like the one based on Lync -- until the next partner refresh cycle occurs (which usually falls on the anniversary date of attaining Partner status), as described in detail on the Partner Network pages devoted to the Communications competency.
Those interested in MS communications technologies may find this free MVA training video "What's New in Skype for Business" both interested and informative, whether or not they plan to pursue Lync 2013 certification in the short term, or Skype for Business in the longer term. The subtitle is a bit more intriguing, and might provide a little more impetus to look "Servicing the existing deployment & upgrading to Skype for Business Server" (1:17:17 viewing time for the first module, additional modules on server core, voice improvements, new meeting and video investments, ensuring media quality, development topics, business architectures, and more also available; 6 modules in all).
From what I can see this is more than a rebranding exercise, though it does include some such elements. IT Professionals interested in MS voice and unified communications offerings will want to check this out!