The Microsoft Dev Center currently offers a set of free hands-on labs to help candidates prepare for MCSD: Windows Store Apps. In particular, these materials will be helpful for exams 70-481 and 70-482.
The MCSD: Windows Store Apps certification is attracting interest among developers interested in selling apps through the online Windows Store for Windows 8. Microsoft is doing everything they can to make this cert appealing, with a free Jump Start for exam 70-480 Programming in HTML5 with JavaScript and CSS3, and with its Hands-on labs for Windows 8 for exams 70-481 and 70-482.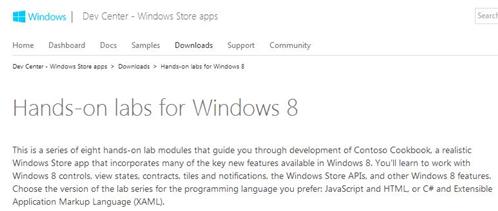 Here's a good way to cook up some Windows Store App skills.
You'll find a set of 8 labs ready for downloading that work with JavaScript and HTML (or C# and XAML, if you prefer that route). Microsoft Visual STudio 2012 is also required, but as it happens you can grab a free virtual machine (VM) for that as well (you'll need to install these hands-on labs in that environment to take advantage of the access to Visual Studio 2012 that it provides).
Please note, the VM mentioned works only with Windows machines running Hyper-V (that means Windows Server 2008 x64 or better, or Windows 8 x64).