As I read over the announcement from CompTIA earlier this week that the latest version of the Network+ exam (N10-006) became available on 2/28/2015, I found myself wondering: "What do we have ready for this latest iteration?" As I dug into the PITC site and started checking things out, I found myself pleasantly surprised. The short answer to the question is "Plenty!" but you'll have to read on to get details and pointers.

As I jumped up onto the PITC site, I used the exam ID (N10-006) to search for available items, and came away with a pretty considerable list of items either already available or on their way to the marketplace. Let's start with what's already available:
1.CompTIA Network+ N10-006 Hands-on Lab Simulator by Michael D. Taylor, appeared on February 26, 2015 (last week). This offering includes 63 hands-on labs designed to run on modern OS X (Mac) and Windows (7, 8, 8.1 and 10) PCs, and includes coverage of the OSI network reference model, networking hardware, Ethernet, IPv4 and IPv6 adressing, network routing, WANs and LANs, wireless networking, and more. Lab styles include matching, drag-and-drop, command line exercises, and Windows GUI tasks.

2. There's even a Cert Guide/Practice Test bundle available that combines the Cert Guide with additional Practice tests for the N10-006.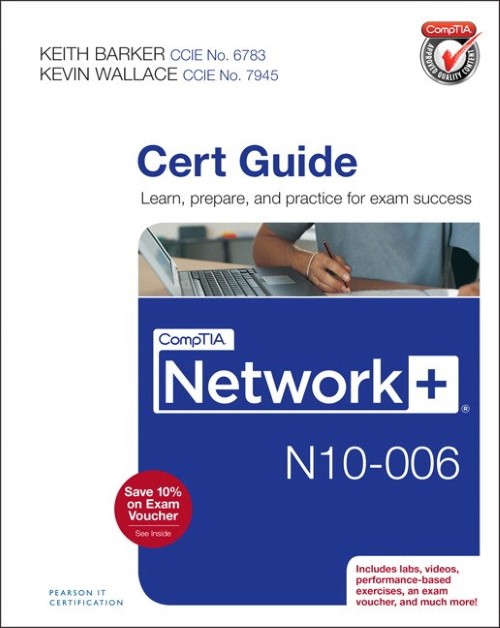 The Cert Guide is a substantial and helpful piece of work!

3. CompTIA Network+ N10-006 Cert Guide by Keith Barker and Kevin Wallace, will release on 3/13/2015 and comes as a physical book/eBook bundle. It offers up 592 pages of useful information, tips, and study suggestions designed to help candidates master the concepts and material they need to pass the exam. Also includes practice test software, with multiple question banks from which to practice and learn, and 60 minutes of video mentoring from the book's authors. A Deluxe Edition of this book includes a hands-on lab simulator for the N10-006 exam, additional banks of practice test questions, and more.
As you might expect, there's one more item in the Pearson collection of N10-006 elements still on the way. That's the Exam Cram by long-time cert maven and expert Emmett Dulaney. It's due out on May 29, 2015 (in about 10 more weeks), and it will include 648 pages of excellent exam coverage when it's available.
As always, Pearson offers great options and coverage for IT certification topics, especially those, like Network+, that command lots of attention and interest from the IT professional community. Be sure to check them out if you've the need, and to recommend them to your colleagues if you're already Network+ certified.