Over the past 10 years, it's been my great pleasure to work with IT certification author and Windows expert Don Poulton on a number of projects. Late last year, I helped with some last minute review of test question banks for a book of his that just came off press last month.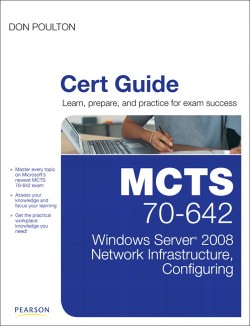 Cover Shot for 70-642 Cert Guide
It's entitled MCTS 70-642 Cert Guide: Windows Server 2008 Network Infrastructure, Configuring, and it does a bang-up job of preparing candidates for that exam. Another colleague and occasional co-author, Darril Gibson, served as one of the two tech editors for this book (Chris Clayton was the other, but I've never worked with him to the best of my recollection). They've done an excellent job of making sure the exam coverage is current, correct, and relevant to what you'll see in the Prometric test center when you go to take this exam.
As is typical for such books, the coverage closely follows the exam objectives, though its chapter layout is more broken up by subject matter than by the way those objectives are organized themselves (I think this is a good thing, because people tend to remember topics more by subject and system components involved, than by how MS chooses to organize exam objectives).
There are 21 chapters and 3 appendixes, plus a complete certification exam available for download that works with the Pearson test engine included on CD packaged with the book. It's over 1,000 pages long (1,056 pages to be more precise) and packed with all kinds of useful and informative coverage of network-related aspects of Windows Server 2008. In the two weeks I've had this book on my desk, I've found it not only does a good job of dealing with 70-642 exam topics and such, but also makes a pretty good general Windows Server 2008 networking reference as well (and that's probably because it's nicely organized logically, rather than slavishly following the MS exam objectives).
I found the following chapters particuarly illuminating and informative:
Chapter 2 on DHCP offers good insight on DHCP set-up, including IPv6 related stuff.
The DNS chapters (5-7, and parts of 8) provide great hands-on guidance for working with Microsoft's implementation of the Domain Name System and its various servers and services.
Network Policy Server (15) and Network Access Protection (16) get the in-depth coverage they need and deserve.
Chapter 19 on the Windows Server Update Services (WSUS) is cogent, pithy, and very helpful.
Pearson also offers a physical and e-book bundle for this title, which makes it easy to take with you on a mobile device or notebook PC while on the road, instead of lugging the weighty 4.4 pound hardback around with you. It might be worth the extra $20 or so it'll set you back to go "both ways" on this title, just to lighten your load.