In trying to understand the value proposition for IT certification, employers and IT pros alike are always interested in finding good answers to the question posed in this blog post's title: "Why hire certified IT pros?" Cert sponsors, always seeking to sell more cert exams and expand their certified populations, are no less interested in providing such answers. A recent study from IDC (October 2015) entitled "The Business Value of IT Certification" provides some interesting and useful answers of interest to all parties.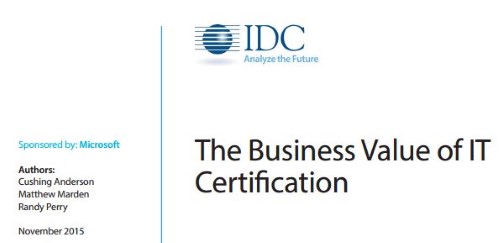 Headline/title from November 15 IDC report.

The entire study is available for download, but the results are nicely summarized in a recent Born to Learn blog post entitled "Four solid reasons to hire certified employees" dated 1/25/2015 by Tisha Hardester. These results are based on interviews that IDC conducated within 8 organizations, all of which employ IT staff members who've earned various IT-related certifications. All reported "achieving strong value by having IT staff who have earned IT certification." Those sources of value, ranked by percentage of interviewed organizations reported such sources is as follows:
58% reported a "faster time to market for applications"
56% reported "less unplanned downtime"
39% reported "less time for new hires to reach full productivity"
17% reported "higher productivity for server, database, and application teams"
IDS explained these finding as constituting IT staff efficiencies, where deeper understanding of technologies allowed certified IT staff to take less time to come up to speed and to be more productive that their uncertified counterparts. They also claim that applications are delivered more quickly to end users when certified IT staff is involved, and that such users experience less unplanned downtime when certified IT staff provides their development and support. Further, they assert that new hires who are certified become fully productive more quickly than their uncertified counterparts, and that they enjoy longer tenure on the job than their uncertified counterparts as well. Finally, they also indicate that certified employees "are often given more responsibility, have more opportunities for advancement, and have higher salaries on average" than their uncertified colleagues and co-workers.
Where's the Ammunition to Use with Employers?
The Microsoft blog post does a great job of translating the study results (worth reading, nevertheless) into statements that IT pros can use to argue for certification value and support from current employers, or to explain to prospective employers what makes them worth more than uncertified colleagues:
1. In discussing increased productivity, the MS post states that "interviewed organizations found that certified employees can handle complex challenges more efficiently, are able to support and mentor uncertified staff, and are 17% more productive across core IT activities."
2. In explaining improved risk mitigation, the MS post asserts that "certified technology professionals reduce unplanned downtime by 56%...because they are more knowledgeable about how to diagnose problems, reduce the severity and duration of outages, and improve systems reliability."
3. In describing better business agility, the MS post reports that "technology-certified employees can improve time to market of new applications and features by 58%..." and that "they also deliver about two-thirds more applications on budget..." for "...savings that can be reinvested in the company."
4. Making a case for sustainable hiring, MS avers that certified IT staff are less likely to turn over as much or as often: "Turns out that certified staff onboard more quickly, take on more responsibilities, and advanced faster than non-certified employees. This means they're more engaged, and are more likely to stick around..."
OK, so now you've got some ammunition to use to argue that certification is worthwhile, worth money, and adds value to any organization. So please: go out and use it already!