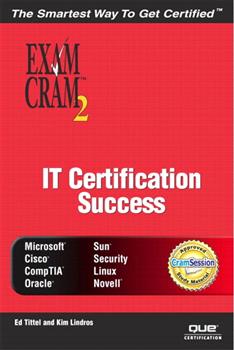 How many "big certs" from this cover have faded into obscurity?
Pearson will still quite happily sell you an Adobe Reader Version of the most recent edition of the IT Certification Success Exam Cram, but there's no real reason for you to plunk down $13 or so to make it your own. "Why not?" you ask. Here are my top three reasons for suggesting otherwise, in reverse priority order:
3. Because the information in that tome is now a decade old, and out of date.
2. Because the programs and subject matters of interest to IT professionals are waaaaaaay different now than they were in 2003.
1. Because we've recreated that book in electronic form in a series of 21 articles right here on this very Website, and update them regularly, so you can grab them right now, for free!
Here's the directory from the home page for "Ed Tittel's IT Certification Success" right here at PearsonITCertification.com, with links for you to use to grab the articles already at your disposal. Who needs a book (printed or electronic) when you can get all the content -- and more -- in a curated, up-to-date form for free? Not you, I bet!
IT Certification Planning, Preparation, and Training
Overall Certification Preparation Overview
Certification and Career Self-Assessment: Can and Should You Do It?
Crafting a Personal Certification Plan
Understanding IT Certification Ladders
Build Your Own Customized IT Certification Ladder
Pros and Cons of Classroom and Online Training for Certification Prep
Using Practice Exams for Study and Preparation
Establishing a Certification Support System

IT Certifications, Employment, and Career Planning and Development
Top Job Posting Web Sites
Using Job Posting Web Sites
Working with Professional Associations and Societies
Working with a Personal Network
Finding a Job That Fits
Working with Technical Recruiters

IT Job Roles and Related Certifications of Interest
When Ideal IT Job Candidates Meet Real Job Requirements
An Ideal PC Technician
An Ideal Network Administrator
An Ideal IT Internetworking Professional
The Ideal Security Professional
An Ideal Project Manager
An Ideal Programmer