Learn from the Co-Author of the new CCNP Routing and Switching TSHOOT 300-135 Official Cert Guide and Library products.
"How hard are the exams?" is a common question I receive. Regardless of the exam, ROUTE, SWITCH, or TSHOOT, the level of difficulty is related to how well prepared you are. I have failed and passed many exams, all successes can be directly related to adequate preparation. The failures, a lack of preparation.
To pass the new CCNP R/S exams you need to be prepared to tackle the tough questions and scenarios related to the topics outlined in the exam blueprints. You should understand the theory behind the topics as well as how to apply them and troubleshoot them.
The best advice I can give anyone is to take your time. Certification preparation is not a race, so it does not matter if it takes you 3 months or 9 months to complete your training and exams. The more quality time you spend preparing for the exam, the easier the exam will be for you and the more this will translate to success in the real world. Notice how I said quality time. That is the key. Make sure that you are maximizing your studies with the proper resources that dig into the details you need to know.
Let's make no mistake, these exams are more difficult than they were five years ago, which were more difficult than five years before that, and so on. CCNPs are expected to know more now, at a deeper level, than they did in previous years for routing and switching. Therefore, to be successful on the exams, you need to be confident that you have the knowledge to pass the exams, and that knowledge comes from using the proper resources.
Download Chapter 3: Troubleshooting Device Performance of the Official TSHOOT Cert Guide and enter to win a copy of the new CCNP Routing and Switching Official Cert Guide Library + Exam Practice Pack (3 winners) by inputting your email address (top right corner of the page).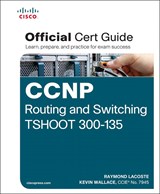 CCNP Routing and Switching TSHOOT 300-135
ISBN: 9781587205613
Author: Kevin Wallace / Raymond Lacoste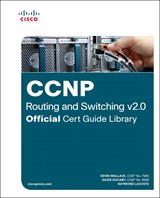 CCNP Routing and Switching Official Cert Library
ISBN: 9781587206634
Author: Kevin Wallace / David Hucaby/ Raymond Lacoste