Just last week, another build of the Windows 10 Technical Preview -- Build 10041 -- popped onto the landscape. I've been working with it desultorily at times, and with intense focus at others, but always, always I've been struggling to find good sources of information. I'd like to share some of the results of my searching in this blog post, to help other "early adopters" like myself get ready for a new slate of MS certs sure to show up in late summer or early fall when Windows 10 hits the "General Availability" milestone.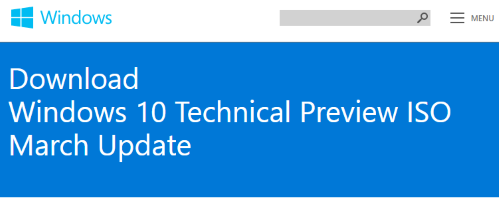 Just last week a new build of Win10 appeared; this week it's available to all Windows Insiders.

At the moment, there's very little by way of official information available from Microsoft itself, when it comes to Windows 10. Normally, my go-to resource for all things Microsoft is TechNet, but as this search clearly shows, there's really not that much documentation available at the moment. Where to turn, when official sources are scare and/or lacking? Here are some suggestions:
1. Windows Ten Forums: The same team that has put great news, information, how-tos, and chatter together for Windows Vista, 7, and 8 has a set of forums for Windows 10 also available. Check out Windows 10 Forums for news, information, and lots of fellow travelers in the same boat as you.
2. Windows NewsMongers: OK, so maybe that's a made-up word of my own invention, but you'll find sites including Neowin.net, WinBeta.org, Thurrott.com, and others invaluable in keeping up with what's new, what's interesting, and what's puzzling or problematic about this new OS. I blog three times a week on Windows topics, and these are my go-to resources for news and info.
3. Keep an eye on Amazon.com: There aren't any books on the radar yet for Pearson IT Certification, but you'll find them -- and others -- on Amazon as soon as their PR and advance publication teams spread the word to the world's biggest bookseller about what's coming. There are already plenty of titles out and/or announced for Windows 10, as you'll see when you run this Amazon Advanced search.
4. Born to Learn: That's the official blog for Microsoft Learning, and this is where you'll find news about upcoming certs on the new OS making their first appearances. This search shows you that it's already receiving some mention there, but you'll see frequency and import picking up as the rumored launch date of "late summer, early fall" creeps ever closer. There's already a promotion called "How to Get a Windows 10 Exam for Free" in this venue, and it explains how to turn an MCSA in Windows 8 earned by May 31, 2015, into a free exam voucher for Windows 10 Exam 70-697 when it becomes available later in 2015. I expect there'll also be a 70-698 as well to create a two-exam sequence, like those for Windows 7 and 8.
If you keep your eyes and ears open -- and drop in occasionally on the aforementioned resources as well as this blog -- you'll probably have plenty of advanced warning about what's coming up with Windows 10 certification stuff. In the meantime, learning what you need to know will require rather more hands-on interaction and experimentation and rather less book learning than is typical for more mature Microsoft certifications.