I came across an interesting and mildly disturbing press release from CompTIA this morning. It recounts a joint briefing from CompTIA and the Congressional Caucus on Small Business IT held in DC earlier this month. The upshot is that although our younger generations are tech-savvy, that understanding doesn't necessarily lead to interest in or pursuit of work in IT.
With high unemployment rates among young people (over 25% for teenagers, and approaching 20% for those under 24) you'd think that young people would jump on any job opportunities that might beckon. A California representative, for example, reported that businesses in her home district of Orange County have ongoing difficulties staffing open, entry-level IT positions.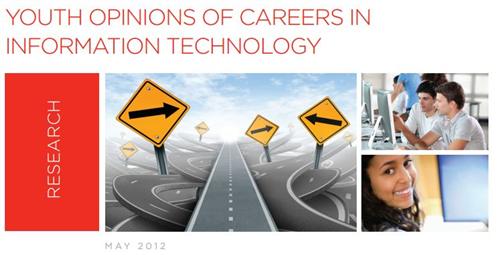 CompTIA's VP of Research, Tim Herbert, reported on findings of a recent CompTIA study intended to provide insight into this situation. It's entitled "Youth Opinions of Careers in Information Technology" and offers some fascinating tidbits of information. Based on a survey of 1,000 13-24 year-old Americans, although this group is comfortable and familiar with technology, many of them "...rule out an IT [career] as [a] result of a bad perception of the field and a lack of education about what IT careers are available." Herbert also explains that "the category of 'IT' is expansive and ill-defined, but research has shown that when teenager[s] and adults are educated about the various career paths, there has been significantly higher interest."
The upshot of the conversation which involved business leaders, CompTIA representatives, and national politicians is that it's vital to communicate beyond the college crowd and include K-12 students in raising awareness about IT and the kinds of job roles and opportunities it offers. If students have more understanding of their potential career paths in IT before they graduate high school, this should steer more of them in that direction in college and beyond.
To that end, Nancy Connolly, public policy director of the National Association of State Directors for the Career Technical Education Consortium also unveiled a "...Common Career Technical Core (CCTC), a state-led initiative to establish a set of rigorous, high-quality standards for Career Technical Education (CTE) that states can adopt voluntarily." This CCTC includes standards for 16 various Career Clusters modeled much like those used for CompTIA job and task analysis in formulating coverage for IT certifications. Hopefully, this will help to ensure that students will be able to train up on areas directly relevant to workplace jobs and activities, and be ready to pursue more advanced studies at the college level.
What can we do to help this process along? Those of us who work in IT should reach out to young people -- children, relatives, friends, and so forth -- to help them understand how broad and interesting IT really is. We should also help them learn and understand the tools and technologies that they can leverage to find interest and engagement in a fascinating career. At the same time, we should contact our state legislators to ask them to look into and adopt the CCTC and CTE framework to make sure our young people get the exposure and IT training they need early on in their educations, so as to steer more of them into IT (and prepare them to excel in this field).