Q: What are the differences between your network simulator and the Boson network simulator?
A: I can't give you a comparison to the competition, but I can give you the scoop on what our product does well. It is 100% focused on exam prep, with focus on lab exercises that help you learn what you need to pass the exam.
Four styles to help you grow:
·Skill Builders are simple, and best used on the first read of a topic. Read a section, do 5-10 labs, each 3-5 minutes each, quick reinforcement/discovery, each lab focused on 1 or 2 points at most.
·Later, on 2nd read, or when you review a chapter, or a whole "part" (multi-chapters), use the config scenarios. These are 20-30 minute labs, plenty of room to make mistakes (and learn from them), makes you think without a lot of direction. These prep you for Sim questions, with about as many tasks as about 5 Sim questions on the exam. (There's about 50 of these in the product.)
·Then there's the troubleshooting scenarios, best done when practicing troubleshooting - each of these has a config, with something broken, and you have to troubleshoot and fix the config errors. (These are again good for Sim prep.)
·And the newest type, in Edition 2 (just out about a month ago), are subnetting exercises - some ways to practice subnetting math, but applied, in the context of the CLI, very much like you might see on the exams. Short version, the Pearson Sim is a product to learn the CLI skills you need for the exam, rather than just a playpen.
Q: Could someone get by with the CCENT and CCNA tests with just the simulator (that is, for lab work, learning commands, etc. outside of the reading material)? Or do you also suggest a hardware lab?
A: Yes, you can absolutely get by for the exams with just the simulator. Can you learn things with the real gear that you simply can't learn with any simulator? Yes. Can you learn some things better with real gear? Yes. I am a fan of using some real gear, even though I make money on the Sim and don't make money when you buy real gear. ;-) But the Sim does do plenty to prepare you for the exam. When we designed it, we simply asked, what skills does someone need to learn to be able to do well on questions that require CLI skills, like Sims and Simlets? Then we built the sim to do just that. We believe the Pearson Sim does that.
Q: According to Wendell's website, the simulator could get you through all of the CCNA Exams (according to the graph displaying how each (simulator, hardware, and emulator) should or could be used) is that accurate?
A: Regarding those graphs on my web page, a quick comment: The Sim does get people productive with learning more quickly than the other options, so it's a great tool for people who are complete newbies when they start reading the ICND1 book.
Q: I notice that there's also a CCENT network simulator, which states that it's a subset of the CCNA simulator. If I buy the CCNA simulator, which is more expensive, does it also cover the CCENT content/topics?
A: Yep, CCNA is a superset - it has all the labs from CCENT included in it. There's even an option to buy CCENT Sim and then upgrade to the full CCNA product via download.
*The above thread was derived from Wendell Odom's Facebook page – "like" his page now and while you are there "like" the Cisco Press Product page.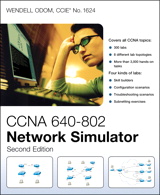 Product information: Learn more about the CCNA 640-802 Network Simulator, Second Edition or the download version now.
Want more? Download a lab study plan for using the Network Simulator.
***ENTER TO WIN!***
Please comment below and let us know what you think about the Q & A and what other topics you would like to see next.
Anyone who submits a comment will be entered to win a Simulator. *Winner chosen randomly April 30th.