Ace psychometrician and MS Learning guru Liberty Munson helps certification minded IT professionals strike gold once again in a recent blog post for Born to Learn. In that post, she not only asserts that numerous Microsoft certification exams can provide college credit at a large number of institutions at the rate of 2-3 credit hours a pop, she also provides a list of the exam that potentially qualify for this bonanza.

The American Council on Education (ACE) is the sponsoring organization, and the program involved is called teh College Credit Recommendation Service (aka CREDIT). It's intended to connect workplace learning with college and universities by permitting students -- including adult learners who've already got some time and experience in the workplace -- to get academic credit for courses and exams completed outside virtual or physical classrooms on campus.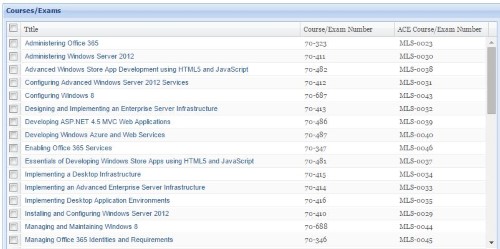 Screencap of MS exams under the ACE CREDIT umbrella (original source).
Recognizing that this information may be too miniscule to parse easily, and wishing to provide links and additional information, I reproduce that information in tabular form as well:
ACE CREDIT Eligible Exams from Microsoft Corporation
Exam Title
MS Exam ID
ACE ID
Credit Hours
Administering Office 365 (retired 4/1/14)

70-323
MLS-0023
2
Administering Windows Server 2012
70-411
MLS-0030
2
Advanced Windows Store App Development...
70-482
MLS-0038
3
Configuring Advanced Windows Server 2012 Services
70-412
MLS-0031
2
Configuring Windows 8
70-687
MLS-0043
1
Designing and Implementing an Enterprise Server Infrastructure
70-413
MLS-0032
2
Developing ASP.NET 4.5 MVC Web Applications
70-486
MLS-0039
3
Developing Windows Azure and Web Services
70-487
MLS-0040
3
Enabling Office 365 Services
70-347
MLS-0046
2

Essentials of Developing Windows Store Apps...
70-481
MLS-0037
3
Implementing a Desktop Infrastructure (retired 1/31/2016)

70-415
MLS-0034
2
Implementing an Advanced Enterprise Server Infrastructure
70-414
MLS-0033
2
Implementing Desktop Application Environments (retired 1/31/2016)
70-416
MLS-0035
2
Installing and Configuring Windows Server 2012
70-410
MLS-0029
2
Managing and Maintaining Windows 8
70-688
MLS-0044
2
Managing Office 365 Identities and Requirements
70-346
MLS-0045
2
Looking over this list, I can't help but notice that some of the exams are retired, one as long ago as April 2014 (the other two, just last month in January 2016). This tells me that the ACE stuff lags somewhat behind the leading edge of MS certification activity. Also, to take advantage of this offer of college credit, your institution has to appear on the
ACE CREDIT College and University Network
list. Other than that, this looks like a pretty sweet deal, especially for those who are participating in college credit programs and who've already taken one or more of the exams listed (of course, your institution will probably limit the total number of hours you can skip taking and paying for with them, so don't expect to get out of too much by way of exercising this offer, either).
In looking over the list of organizations that also qualify for this treatment, above and beyond Microsoft (you can browse through this on the ACE
National Guide
page for yourself, if you like), I also find other organizations that some readers are likely to wish to dig into further as well, including:
ASIS International (CPP, PSP, PCI)
Certiport (many MS Office Specialist and related exams)
Center for Development of Security Excellence
Numerous Defense related organizations, schools, and academies
ISC-squared (CISSP)
In short, this is an interesting resource, and one worth checking out for anybody who's earned a certification and/or taken a cert exam who is also enrolled in (or thinking about enrolling in) any kind of degree program.