On Monday, April 29, 2013, the White House made an announcement about partnering with industry to help active duty military personnel and veterans get credentialed for high-demand jobs. This issue is particularly acute at the moment, thanks to the drawdown of forces in Iraq, and a planned drawdown for those forces still deployed in Afghanistan through the end of 2014. Cisco is offering special access to CCNA training and certification exams as part of this program, to help returning servicepeople and veterans transition back into civilian life.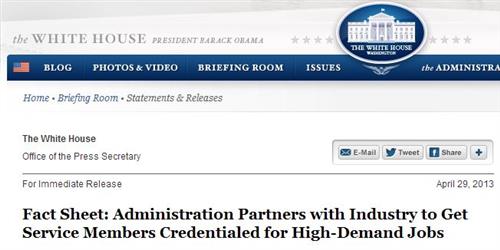 Let's hope Cisco is the first of many IT cert sponsors to get behind this initiative.
First Lady Michelle Obama delivered this announcement (see this White House Fact Sheet for all the details) at the same time she introduced an "IT Training and Certification Partnership" -- a public-private partnership intended to help "...thousands of service members to earn industry-recognized information technology (IT) certifications before they transition from military service" (emphasis mine). This effort comes as an outgrowth of a Military Credentialing and Licensing Task Force created at the Department of Defense in mid-2012 at the President's behest.
This task force has so far concentrated on the following key objectives:
1. To identify military specialties that transfer easily and directly to high-demand civilian jobs.
2. To work with civilian credentialing and licensing associations to identify and fill gaps between military training programs and job specialties and civilian certification and licensing requirements.
3. To provide veterans and service members with more and better access to necessary certification and licensing exams.
As far as I can tell, the Cisco initiative picks up and runs with items 2 and 3 above, in providing training and exams to transitioning military personnel before their separation from whichever branch of the armed services employs them (the announcement mentions that Cisco worked directly with the Army, Air Force, and Marines in developing this program). The initial pilot, according to Cisco CEO John Chambers (who blogged on this topic on Monday as well) will "...engage 1,000 transitioning military personnel in training, certification and career resources..." where "...participants will have access to training, certification, and career matching opportunities..." The CCNA will be among the cert offerings made available to them, and they will be guided through training and the cert exam, and then into job matching and placement.
Chambers' reflections on this kind of program are worth quoting verbatim, so here goes:
We know that veterans have valuable skills, experiences, and qualifications that are highly sought after in today's workforce. Our goal is for this program to help take their skills – like teamwork and leadership, the proven ability to learn quickly, a strong work ethic, dedication, and the ability to work under pressure – and help quickly translate them into successful career opportunities in the civilian workforce. In addition, transitioning military personnel and veterans can help to fill our current skills gap in the IT sector, which will help accelerate innovation and growth in our economy.
I really do hope that other major cert program sponsors, such as CompTIA, Microsoft, HP, IBM, Oracle, and the InfoSec community, also get behind this effort. There are going to be a large number of people leaving the armed services in the next 20 months or so as the drawdown of forces continues, and it would be nice to see as many as possible placed into productive work situations as possible.