Whether or not you are one of the luck ones attending Cisco Live in San Francisco at the end of this month, you too can enjoy a special Pre-Show Sale offer celebrating the biggest Cisco event of the year! Save 40% off new and best-selling Practice Tests, Simulators, Video Training, and eBooks! Now through May 16th only. Use discount code CLPRE at check out.

Even more outstanding news, Cisco Press is giving away $2,500 in learning! To celebrate 25 years of Cisco Live innovation we want everyone to have a chance to learn. Make sure to enter for your shot at $500 toward a Cisco exam voucher and a selection of Cisco Press learning materials -- 5 winners will be selected.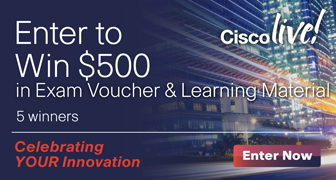 Enter now and celebrate YOUR innovation - good luck!
Follow @CiscoLive, @CiscoPress and hashtag #Clus for more updates during Cisco Live May 18-22nd.