Today (May 27) Cisco is announcing several new Internet of Things (IoT) and Cloud-related certfication credentials in the CCNA and CCNP categories. Their IoT credential will be called CCNA Industrial (IoT), and there will be Cloud versions of the CCNA and CCNP added to their lineup.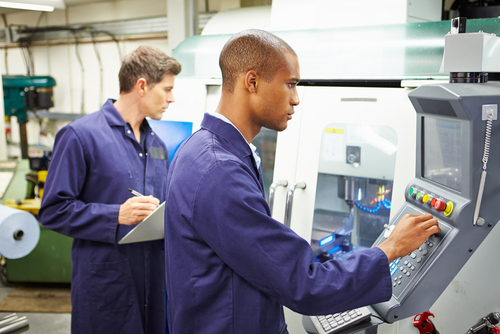 According to projections, industry and cloud are major network growth vectors.
[Image Credit: Shutterstock 165341897 © Monkey Business Images]

More about the CCNA Industrial (IOT)
This credential aims at industrial environments such as manufacturing and processing plants, logistics and supply chain management, and so forth. Because the "Internet of Things" (or as Cisco likes to call it, the "Internet of Everything") brings together people, processes, data, and objects, it helps to increase the value of networking and helps tie all the elements of design, development, production, delivery, deployment and maintenance in ways hitherto impossible to achieve. Thus, the focus of this credential focuses on connecting previously unconnected things and services into the network, on automating and orchestrating services built around those services and things, and on creating the infrastructures necessary to capture and learn from real-time data analytics that result from this effort. The CCNA Industrial credential is lab-based and is part of Cisco's emerging industrial education coverage. The focus for this credential includes plant administrators, control and process engineers, and IT or network engineers in the manufacturing sector.
More about
CCNA Cloud and CCNP Cloud
Cisco's Cloud credentials address the needs of IT professionals who wish to build and support private and/or hybrid cloud-based IaaS (Infrastructure as a Service) environments, so that IT organizations can create and manage enterprise-wide cloud deployments consistently, under a centralized but distributed management regime.
CCNA Cloud
is the entry-level credential in the mix, and aims to teach IT pros how to provision and support solutions build around Cisco Cloud and Intercloud components. The
CCNP Cloud
is the next cert step up on this ladder, and aims to teach IT pros how to explain cloud concepts to management and executive staff, and to design, deploy and maintain solutions likewise constructed around Cisco Cloud and Intercloud components.
The first exam for CCNA Cloud 210-451 CLDFND Understanding Cisco Cloud Fundamentals is already online and avaialble. The second exam 210-455 CLDADM Introducing Cisco Cloud Administration is scheduled to go live in July 2015. There will be four exams required for the CCNP Cloud, about which more information will be forthcoming in August 2015. Those exams are listed as follows
300-504 CLDINF Implementing and Troubleshooting the Cisco Cloud Infrastructure
300-505 CLDDES Designing the Cisco Cloud
300-506 CLDAUT Automating the Cisco Enterprise Cloud
300-507 CLDDACI Building the Cisco Cloud with Application Centric Infrastructure
It should be interesting to watch these programs unfold completely, and to observe their uptake among the target audience. If Cisco's growth projections are even half correct, IoT and Cloud elements will occupy a significant sector of their certified professional population over the months and years ahead.