Thinking about taking any of the more common Cisco cert exams (CCNA in partocular)? Visit the Cisco Learning Center to work your way through these self-assessment tools, with companion study guides. Way cool!
If you're hastening down, or already on, the Cisco certification trail, you should definitely get in the habit of visiting The Cisco Learning Center from time to time. In particular, those chasing one ore more of the CCNA exams (CCND1 and CCND2, and so forth) should check out the Self-Assessments page, where you can download and use self assessments for the following topics: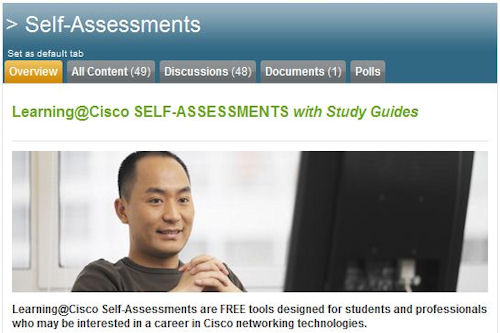 [Note: you must register with the site to access these materials, and only those who hold a Cisco certification already--typically, CCNA--can access self-assessments for higher-level credentials such as CCNP or CCDP, and so forth.]
You can not only use these free and handy tool to assess your exam readiness, they also include guidance into tutorials, how-tos, and other useful information on The Cisco Learning Center Web site to help you beef up your skills and knowledge in those subject areas where you may come up short. Overall, a great element in an exam prep arsenal for anyone chasing Cisco certification.