For those interested in Windows 8 information and technology, there's a terrific "horse's mouth" resource available. It's called the Building Windows 8 blog and it provides an insider view from the engineering team that's currently working on the upcoming release of Windows 8 next year (rumor has it that it will go public sometime in Q4'2012).
As I write this blog post on October 17, 2011, the Building Windows 8 blog already includes 28 different posts, starting with the "Welcome" from Steven Sinofsky, President of the Windows Division, kicking things off on August 15, 2011. It includes coverage of a bunch of great topics, as Table 1 clearly illustrates: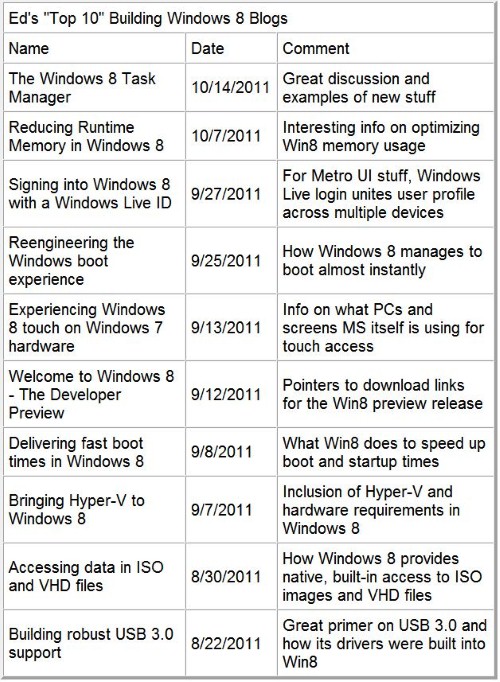 Unfortunately, the blog interface for this site won't let me build a table using native HTML so I had to do that in another program, then take a screenshot of the resulting table to provide the preceding graphic. That's why I couldn't provide links to all of those fascinating items above. But if you simply visit the Building Windows 8 blog, you can navigate to the listing pages by the titles referenced above, and dig up anything that interests you in no more than three or four mouse clicks. It's definitely worth a little mousing and clicking to dig into this stuff, IMO.
Enjoy!