From a link to a collection of tips I wrote over ten years ago, to a series of quick'n'dirty exam prep tips off the top of my head, here's a meta-reference for exam prep tips to help you get ready for--and pass--your next IT certification exam.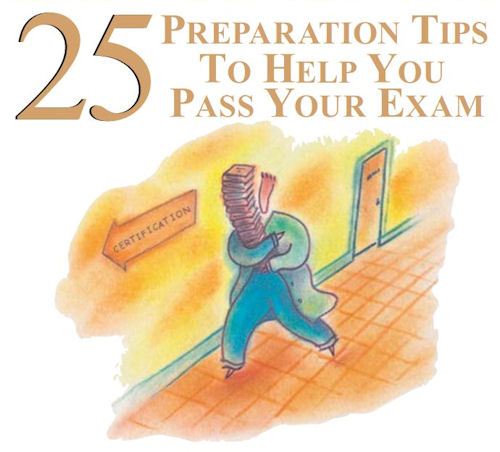 In 2000 or 2001 (it's been so long now, I can't remember exactly when I did this work) I wrote a document called "25 Preparation Tips to Help Your Pass Your Exam." As I was pondering some tips in a recent CertCities article from well-known Pearson author Emmett Dulaney, it occurred to me that this kind of information is just what exam candidates need to help them get ready to face down their next (or even their first) such exam.
Be sure to check the links in the preceding paragraph. As old as my collection of 25 tips is, it's still at least 95 percent on target. Mr. Dulaney's "Certification Tips" are equally helpful, and you can dig back into prior years at CertCities.com to find more from bygone years, in addition to the two tips he's already posted for 2011.
In fact, this leads me to a key observation for this blog posting: be sure to use a search engine to look for preparation tips whenever you're getting ready to take a certification exam. Thus, if you're getting ready for Microsoft exam 70-680 be sure to hit your favorite search engine up with a query like "70-680 exam prep tips," "70-680 exam preparation tips," "Windows 7 Configuring exam preparation tips," and so forth, to make sure you find everything relevant to your particular exam.
And in case Emmett's many Certification Tips, combined with my Top 25 article, don't provide you with enough guidance on general certification exam preparation, use the same technique to look for that stuff, too. In fact, you can repeat the same queries provided in the preceding paragraph, except you'll want to replace exam IDs or names with "IT certification" or just "certification" in those strings instead.
I just tried it myself, and it seems to produce pretty good results in Google and bing. Try it yourself, and you should find some good stuff, too.