The best way to train for your next Cisco, CompTIA or VMware certification is to combine the power of learning via multiple formats and approaches to help you build the hands-on skills you need to succeed.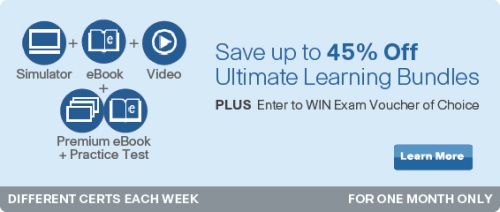 That's why we designed an exclusive collection of training bundles comprised of our best-of-breed practice tests, video training, state-of-the-art simulators, and eBooks. The Ultimate Certification Training Bundles (including certs like CCENT, CCNA, CCNP, A+, Network+, Security+, and VMware) -one month only, bundle up! Don't miss this unprecedented savings opportunity as you prepare to earn your next certification.
Save now
!
Plus, enter to win a free Cisco, CompTIA, or VMware exam voucher!
Each week we'll feature three complete learning solutions bundles which will focus on a different certification or technology:
Week 1: Cisco CCENT bundles (closed)
Week 2: Cisco CCNA Routing & Switching 200–120 bundles (closed)
Week 3: CompTIA A+, Network+, and Security+ bundles (now through March 30!)
Week 4: VMWare and CCNP Routing and Switching bundles (opens March 31) Week 5: All Bundles Open - CCENT, CCNA, CompTIA, VMWare, CCNP (opens April 7th)

Learn more and watch our video!