When I posted about a free Azure eBook offer in this very blog last February, I wondered why Microsoft was putting so much oomph behind its online cloud platform. Now, with numerous additional free eBooks on the topic available, and the redoubtable Mark Russinovich anointed as Azure's Chief Technical Officer, MS has unleashed a new MCSD devoted to this platform. Put all these puzzle pieces together, and you get more than an inkling that MS thinks that Azure is important stuff. That should make the MCSD:Azure Solutions Architect, as the new credential is called, a good investment for those who believe in or buy into Microsoft's cloud services vision.

This new member of the Microsoft Certified Solutions Developer (MCSD) program was announced in mid-May, and you can read more about it in Sidney Andrews' Born to Learn blog post on this subject, entitled "MCSD: Azure Solutions Architect -- Study Resources You Need To Know." Not coincidentally, this post also provides pointers to a variety of resources to help prepare for this certification, and explains the kinds of job roles that successful candidates can fill, and what kind of on-the-job experience they'll need to rack up on the way to earning the credential.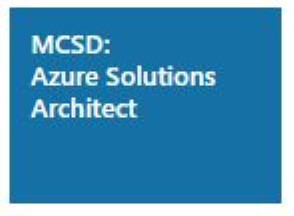 The latest player in the MCSD lineup sets its sights on MS's cloud service platform.
Earning this cert requires passing three somewhat prosaically named exams:
70-532 Developing Microsoft Azure Solutions
70-533 Implementing Microsoft Azure Solutions
70-534 Architecting Microsoft Azure Solutions
While all three exams are available, so far MS has completed official curriculum (MOC) training for only the first two items in the sequence. My best guess is that development on the third course is underway, and that it should see the light of day before 2015 is out.
Those developers who are interested in adding cloud competencies to their certification portfolio, especially those who already work in the Microsoft development world, should find this credential of great interest and significant potential value. Many industry analysts are bullish on Azure (Gartner has ranked it in the coveted upper right area of its various cloud services Magic Quadrants for some time now, and other analyst firms are equally positive) and it appears to have captured a solid second place ranking behind Amazon Web Services (AWS) in the enterprise space. This helps explains Microsoft's increasing emphasis on and attention to Azure, and also indicates why this new MCSD could be a cut above some of the others in that collection.