An avid writer, teacher, and blogger Mark Edward Soper has authored and co-authored more than 18 books for Pearson technical and professional brands. Most recently contributing to CompTIA A+ driven products for Pearson IT Certification including the new CompTIA A+ 220-801 and 220-802 Authorized Cert Guide, Deluxe Edition and Simulator Library and the CompTIA A+ 220-801 and 220-802 Authorized Cert Guide Premium Edition and Practice Test, 3rd Edition.
So how does he do it all? Find out what inspires Mark Edward Soper below!

1. How did you get your start in the industry? I started in the industry in 1983 at the end of the video game craze but in the middle of the home computer craze. I had previously worked in retail (film) camera sales, and was able to take my interest in applied technology, strong product knowledge and great customer service into this new field of selling home computers and video game systems for Children's Palace (a division of Child World). In addition to learning all about the Atari, Commodore, Texas Instruments, Coleco Adam, and Franklin Ace (Apple II+clone) computers sold at Children's Palace, I also worked part time for a store that sold IBM PCs and compatibles. In 1986, I joined a small computer chain that sold Leading Edge, NEC, and Zenith PCs and the first and second-generation Commodore Amigas. While there I became a technology writer and trainer, and have continued in those roles ever since.
2. What certifications do you have and are you pursing anything next? I currently have the CompTIA A+ Certification and a Microsoft Certified Professional certification on Windows 98. I am considering obtaining Network +, Security +, and some new Microsoft certifications in the future.
3. What would your readers be surprised to know about you? I am a passenger and freight train enthusiast, which explains why I work train-related photos into my Windows and digital photography books. I sometimes refer to myself as "internationally obscure" because my books have been translated into many languages and are available around the world. I have a dual degree in English and History, which helps to explain my ability to bridge technical and non-technical worlds in my work. I post some of my photography on Flickr.com.
4. What's your tech library look like? My technical library features almost all editions of Scott Mueller's Upgrading and Repairing PCs, which reflects the big impact Scott's work has had on my life. I am a full-time technology writer and trainer today because of his encouragement in 1999 when changes in the computer training industry meant I needed to make a course correction. I also keep both general and specialized books on Windows, digital photography, and imaging.
5. Any favorite blogs or sites that you can't miss? Some of my favorites for general industry and hardware news include Maximumpc.com, Anandtech.com, Tomshardware.com, Theinquirer.net, and TheRegister.co.uk. For Windows, I like Neowin.net, ZDNet.com's All About Microsoft and The Ed Bott Report blogs, as well as the Microsoft blogs at blogs.technet.com and windowsteamblog.com. For digital photography and imaging, I like Petapixel.com and DPReview.com
6. What inspires you? My readers, students, and family inspire me in many ways, but my desire to thank God for the great opportunities he's given me to share what I've learned with others is my ultimate inspiration.
7. Favorite author? My favorite technology author is Scott Mueller, but when I'm away from work I like the works of C.S. Lewis, Dorothy Sayers, Charles Williams, and J.R.R. Tolkien. Call me a "techno-Inkling" if you like (These writers were members of the Inklings, an informal group of British authors in the 20th Century). More recent authors I enjoy include Andrew Klavan, the early Tom Clancy, and Ted Dekker.
8. Care to speculate on the next big thing? The next big thing I'd like to see would be a real-life version of what I call "DWIM," the Do What I Mean interface. For example, if you write an email with text that indicates you're attaching a file, wouldn't it be great if you'd get a prompt to attach the file? I'd like to see this level of truly intelligent AI to help users with all types of technology, including digital imaging, mobile devices, and more. I want my device to learn how I do things and intelligently anticipate my needs.
9. How has being an author changed you or has it? My experience as an author with a worldwide audience has helped me to realize the importance of making sense to a global readership. For example, when discussing satellite Internet antenna positioning, the antenna must be pointed towards the equator. Years ago, I might have said "towards the south" because I live in the Northern hemisphere. I have also tried to reduce the use of localized slang to make translation easier.
10. Please give your readers 3 tips for success:
My tips for success include:
· Have a spare device you can use for experiments. I've created many generations of "FrankenPC" experimental computers. I don't use them for writing or digital imaging, but for testing hardware, software, and operating systems. If FrankenPC crashes or fails, I'm not in trouble. I make image backups before making changes so I can revert if anything goes wrong.
· Don't be afraid to experiment. You can learn a lot from working with hardware and software you're not afraid to break.
· If you use Microsoft operating systems or applications, get a TechNet subscription so you have low-cost access to operating systems and applications for testing purposes. 3) Make image backup copies of installations so you can easily restore them if something does go wrong.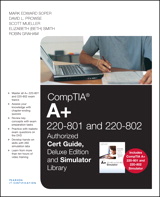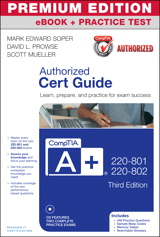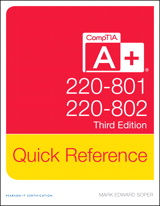 Check out Mark's blog at www.markesoper.com and all of his recent products on Pearson IT Certification.