Expert Wendell Odom has graciously offered to answer community questions; the below are real questions via our Facebook fans, answered by Wendell directly.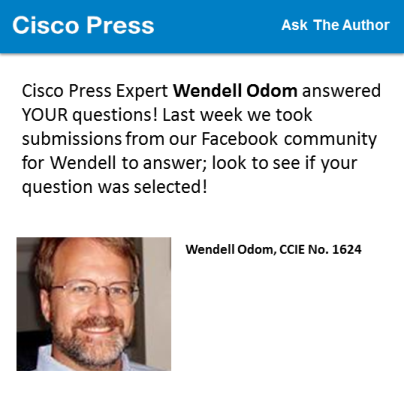 Question from Rahul: How long do you take to write a book?
@Rahul – Well, there's a couple of objective answers. First, writing a new book is much easier to describe than say revising an existing book. For a new book, if you add up the time for everything – planning, drawing figures on paper, writing, re-writing, editing after receiving tech edit comments, etc – everything that goes into writing a book – it's about an hour of work per book page – sometimes less.
For revisions, it depends a lot on how much changes of course. As far as how much time it takes on the calendar, the publisher's work on the book takes time, too. So, if my writing the manuscript, and doing a complete round of responding to tech edits, takes say 5 months, the whole book publication cycle is probably about 9 months, from starting until the first book shows up at ciscopress.com.
Question from Jesus: Mr Odom I'm struggling with VLSM would you be able to clarify the concept for me thanks. I have your latest icnd2 book so if there is a page or something on the cd please let me know so I can look it up. I finished the ICND2 chapter on VLSM, but it still was not all that clear. Thanks.
@Jesus – That's a tough one to answer in Facebook, since the answer could be a whole other attempt at that chapter, and you didn't say specifically what's causing the problem. For this format, let me try a few comments to see if these can help.
Also, as an aside, you mentioned that you had my latest ICND2 book, and read the VLSM chapter, but the latest ICND2 book, with 200-101 in the title, doesn't have a VLSM chapter. It's moved to the ICND1 book. If you're referring to the ICND2 book on exam 640-816, I understand.
A few VLSM thoughts:
Some people get caught up on what VLSM is and isn't. It is: in one class A, B, or C network, the use of more than 1 mask.
Some people struggle with the different ways to think about the subnets in a network with VLSM in use. With VLSM, each subnet must be considered alone. That is, one subnet with a /25 mask, another with /26, are different in that they support different numbers of hosts per subnet (126 and 62, respectively). You cannot do the calculation on one subnet, find the number of hosts/subnet in that subnet, etc, and then assume it's the same all over. Also, you cannot predict all the subnets in the network, because you no longer make the assumption that the same mask is used for all subnets in that class A, B, or C network. So, when interpreting a pre-existing design, look at each subnet as a separate entity, separate mask, separate calculation of the range of addresses. My apologies if these are obvious or are not related to what's not clear – just guessing as to the particulars.

Some people get caught up in finding which route would match a packet to a particular destination IP address, when the IP routing table clearly shows the use of VLSM. In short, calculate the range of addresses implied by each route's subnet ID + mask, and see if the packet's destination is in the range of one of those routes. Hope this helps.
Question from Karol: Mr Odom: I am wondering if there is a specific/effective strategy to using the new mind maps located in the new INCD1&2? Also I wanted to know if you have received any positive feedback from others on the mind maps? Personally, I think they are amazing. They graphically summarize information that could otherwise fill 20+.
@Karol – The bits of feedback we've received on the mindmaps have been very positive. I personally find them useful – I seldom read something longer than an article, or attend any kind of learning event, without mind mapping the content.
If I could give one or two pieces of advice, I'd say to not worry when you feel unsure about the current state of a particular mind map. I can't stress enough that it's the process of making it, wondering what's right, noticing something you might want to change, updating, and so on, that helps convert the information from facts on paper to facts wired into your own synapses. So relax, do them, update them as you see fit. Other tidbit would be to ignore my answers completely, or at least wait until later in your study, far after part review. If you turn around and study my sample, now you try to fit your brain to that sample, instead of what you own brain did.
Thanks for asking. Great to hear that you like them too!
Question from Yap: How can I also become a best-selling CCNA author like you?
@Yap – Well, that's a great question. Write a lot, to practice any time you can. And team with lots of great marketing people, like those I work with at Pearson (which publishes Cisco Press books). The marketing and sales teams at Pearson have done a fabulous job of marketing these books in many markets across the globe, and the sales folks do a great job of filling every channel. My part is relatively simple – write the book. And I'm not just saying that because Jamie (who runs this FB page) is one of those folks that help market the book! In all seriousness, if you're a techie, find folks who are good at the rest of the game.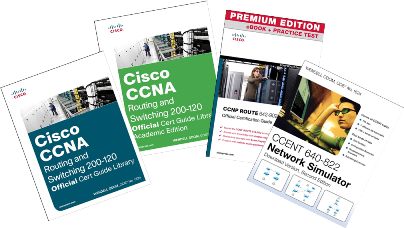 For more information about Expert Author Wendell Odom and all of the products he has authored, visit his bio page.