Almost one year ago, Microsoft instituted a so-called "AppToCert Program," wherein developers could trade some exercise of their abilities -- and a bit of elbow grease -- for credit in becoming certified in the MS development arena. As of last week, MS has re-launched this program for developer enrollment. Learn more about it in this week's blog post, which includes a description of the current incarnation of AppToCert, along with pointers to key blog posts and Web pages for previous incarnations as well.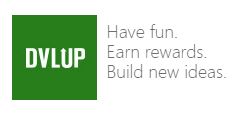 The DVLUP program is home to the AppToCert initiative from MS.

The current version of the AppToCert program is described in a series of blog posts and MS Developer Network pages (links to follow shortly) but is best understood as a multi-part effort involving:
1. Development and publication of a Windows or Windows Phone app that meets a specific set of criteria.
2. Analysis and review from an MS engineer/developer to ascertain that the proffered app meets those criteria
3. Completion of a follow-on exam in a series (HTML5 topics lead to further HTML5 coverage, and C# topics leads to further C# coverage, as you'll see recounted in the "AppToCert Adventures Part 3" blog post cited below)
The whole sequence culminates in the conferral of an MCSD credential with a focus on one of the aforementioned areas. The proposition is thus best understood as a win-win for Microsoft developers who get cert credit for their development efforts and who trade the time, expense, and effort required to study for and pass a couple of MS cert exams against the time and effort required to build and vet a suitable Windows or Windows Phone app instead. Microsoft, of course, benefits by stimulating additional participation in its app development programs, and in getting more apps into the Microsoft Store and/or online. The two MCSDs one can earn this way are the MCSD: Windows Store Apps and the MCSD: Web Applications.
Here's a series of links one can explore to dig further into this program and its offerings, listed in no particular order:
1.
AppToCert Program Returns
(Born to Learn Blog, 9/29/2015)
2.
Adventures in AppToCert -- Part 1
(Born to Learn Blog, 5/19/2015)
3.
Adventures in AppToCert -- Part 2
(Born to Learn Blog, 5/27/2015)
4.
Adventures in AppToCert -- Part 3
(Born to Learn Blog, 6/5/2015)
5.
Build Apps and Build Your Career with the Expanded AppToCert Program
(Born to Learn Blog, 3/31/2015)
6.
You Build Apps, Now Build Your Career
((MS Developer Network, DVLUP program)
6.
AppToCert -- Earn Exam Credit for Apps You Build: Part 1
(MS Developer Network, DVLUP program)
This is a great way for those already building code in the Microsoft world to parlay their interests and experience into certification credentials, and well worth further investigation. If this means your, please check it out!