Long a leader in cloud technologies and related service offerings, Amazon offers a substantial and growing certification program to support its Amazon Web Services (AWS) offerings. Currently, credentials are available for architects, developers and sysadmins at associate and professional levels, with more on the way.

Amazon's certifications cover solutions architect, developer, and "SysOps Administrator" (sysadmin) designations, as depicted in the following illustration clipped from the AWS Certifications home page. It's a typical multi-track program hierarchy, with associate level credentials leading the way into the program, and professional level certs picking up from there. Over time, I wouldn't be at all surprised to see the company add an expert or master level to this collection as well.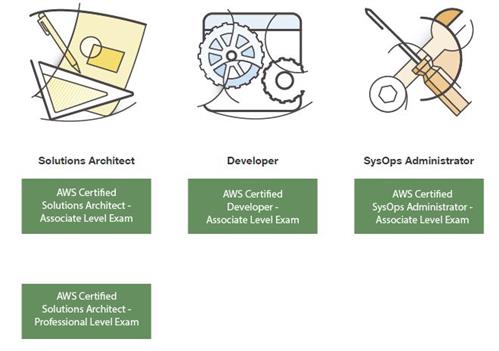 The Associate level covers all three tracks, while the Professional level is still being built out.
At present four credentials are available, three at the Associate Level, and one at the Professional Level. Practice exams cost $20 (Associate) or $40 (Professional); the real thing is $150 (Associate) or $300 (Professional), and Amazon offers a plethora of free Kindle books across a wide range of AWS topics, including certification prep stuff:
Though Amazon has yet to comment on when Professional credentials for developer and sysadmins will be made available, demand for qualified AWS professionals is such that these missing program elements should appear sometime within the next 12 months. Certainly, AWS training and certification program efforts seems to barreling along at full speed, which tells me that missing elements should make an appearance sooner, rather than later.
The AWS cert program is well-designed and includes the kinds of training and learning materials you'd expect from a company with a deep and thorough understanding of content, training, and services delivery. These are certs that many IT professionals will want to investigate, and possibly pursue, if only to ride on Amazon's coat-tails as the leading provider of cloud computing services and Infrastructure as a Service offerings to both service providers and a majority of global enterprises. That's a hard target population to miss, and a great source for potential future employment.