Pearson IT Certification's "eBook Deal of the Week" packs an unusual wallop this week. You can get 50% off the normal price of William (Chuck) Easttom's Computer Security Fundamentals to be sure, but it will also help you prep for Prometric's Cyber Security Fundamentals exam as well, and could help you get an important leg up in the information security game.

I blogged about this Prometric-sponsored exam (which I view in part as a reaction to CompTIA's decision to move its entire exam business to VUE, thereby taking Security+ out of the Prometric testing centers as of July 9, 2012) in March 2013. I now find it both ironic and amusing that a Pearson book combined with a $200 Prometric exam, could combine to help IT professionals obtain one of the best bargains in information security certification around nowadays.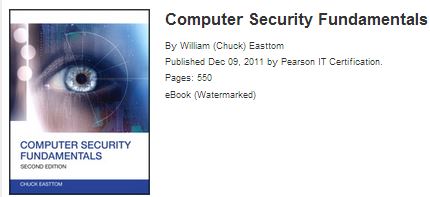 An unexpected Pearson/Prometric double-whammy can boost IT careers into infosec.
The link to Computer Security Fundamentals for $31.99 is good through Sunday, October 6 (it normally goes for $63.99, so it really is half-off). Here's the link to Prometric's Cyber Security Essentials home page. The credential covers 8 knowledge domains, including application security, governance, compliance, operational security, network security, physical security, environmental security, and vulnerability management. You'll find all of this information covered in the Easttom book, too. Knock yourselves out!