Author and Expert Emad Benajmin has put forward an indispensable new guide that offers practical solutions and theories for technical professionals responsible for Java performance in a virtualized enterprise system. His new book published with VMware Press, Virtualizing and Tuning Large Scale Java Platforms, provides technical advice, troubleshooting help, best practices, and detailed case studies.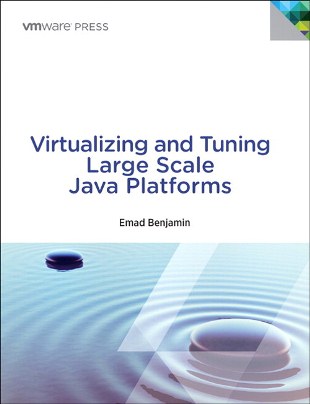 Inside readers will learn:
How to correctly size, scale, and rationalize virtualized Java platforms; and tune VMware vSphere for the unique challenges of large Java applications
How to address technical issues like Java garbage collection
How to modernize Java application architecture using in-memory databases – preparing your applications for both Big Data and Fast Data
As a Senior Architect at VMware for the last 8 years, the author has been focused on Java in VMware vSphere, vFabric GemFire and SQLFire environments. Acknowledging that between 50-60% of today's critical business applications are built with Java and with over half of the server system's in the world virtualized, Emad recognized the need to bridge the gap between the varying experience and expertise of an VMware vSphere Admin and a Java Developer to optimize large-scale Java-based systems.
Virtualizing and Tuning Large Scale Java Platforms is avaialble as a print book, ebook or bundled together. Publishing December 25, the book can be purchased at your favorite online reseller, brick and mortar or at Safari Books Online.
Learn more about Emad Benajmin, or follow him on Twitter at @VMJavabook.
Excited about the book? Let us hear about it - leave your comment below!